Regular price
$99.00 USD
Sale price
$95.00 USD
Unit price
per
Sale
Sold out
👋 The Max comes installed with 9 large buttons and 3 extra buttons for video conferencing controls and more! Know when you are on mute. One tap to unmute or mute. Turn your camera on or off instantly. Done with the meeting? Be the first to leave any Zoom meeting with the dedicated Leave Meeting button!
4️⃣ The Max has 3 rows of keys for a maximum of 4 more keys than The Original. Control your speaker volume and media playback easily and instantly!
🙌 Button layout doesn't work for you? Pull the the buttons out and swap them around!
3️⃣ As part of The Max package, we will give you three extra 1u* keys, so you can configure The Max to do more! Make video calls a breeze, and express your creative side with these extra keys.
🚥 Want different status colors? Use our configuration software to change the status colors to your liking!
👩‍🏭 For keyboard enthuisiasts: the key switches are hot-swappable, which means you can change the switch to any MX-compatible switches that suits your taste. The ATMEGA32U4 microcontroller is QMK compatible.
📦 What's in the box:
1 x The Original macropad
3x extra 1u keys
1 x coiled USB Type-A to Type-C cable
1 x button remover
Specification

Color: white, red and clear

Number of Keys for The Original: 2x 1u; 2x 1.5u; 1x 3u

Number of Keys for The Max & 3 Keys: 9x 1u; 2x 1.5u; 1x 3u

Switches: Gateron red

Number of full color LEDs: 4 in the 1u key, 5 in the 1.5u key, 7 in the 3u key

Connection: USB Type-C in the keypad

Cable: Coiled USB Type-A to USB Type-C
Dimensions

Dimensions: 234mm x 179mm x 48mm
Weight: 916g
Share
View full details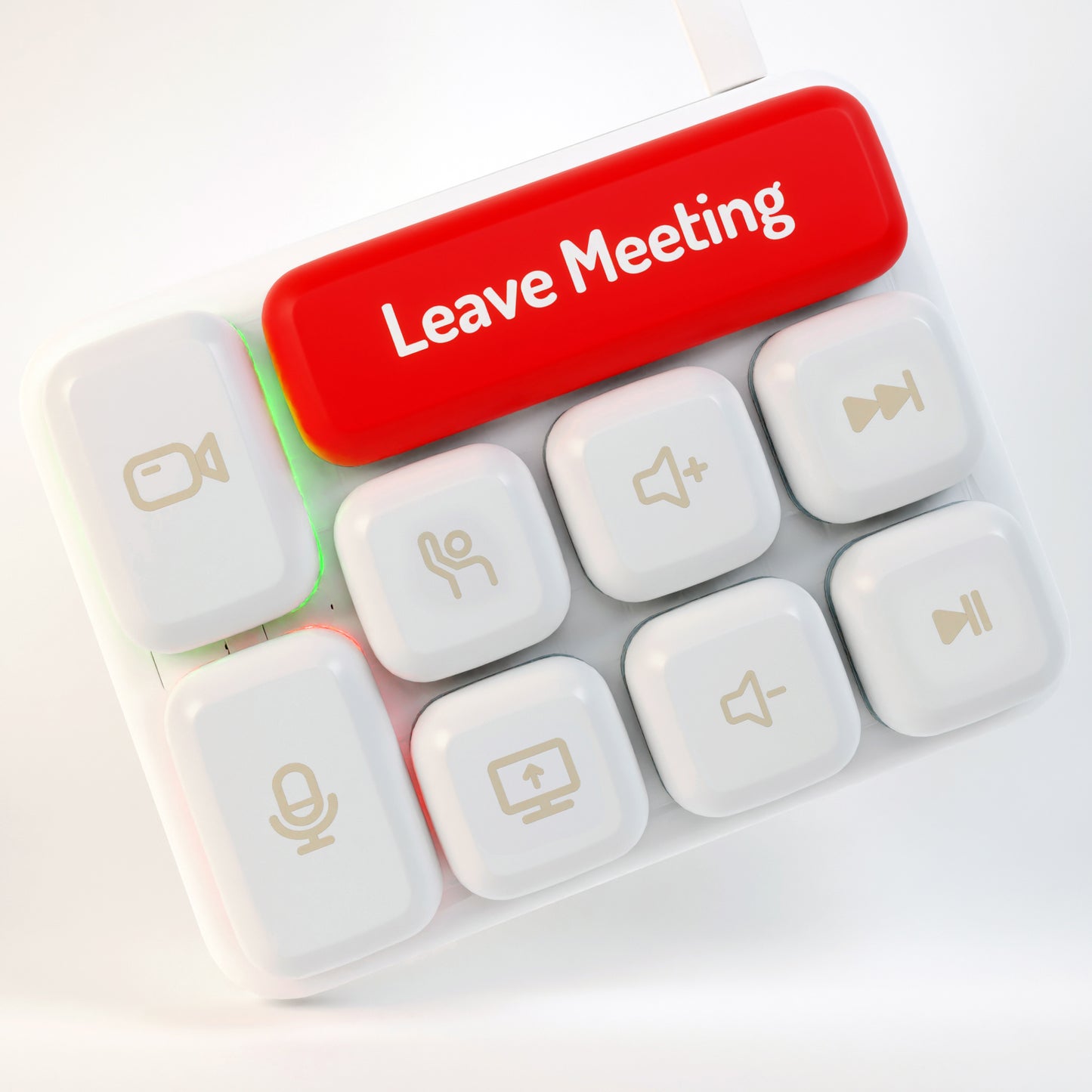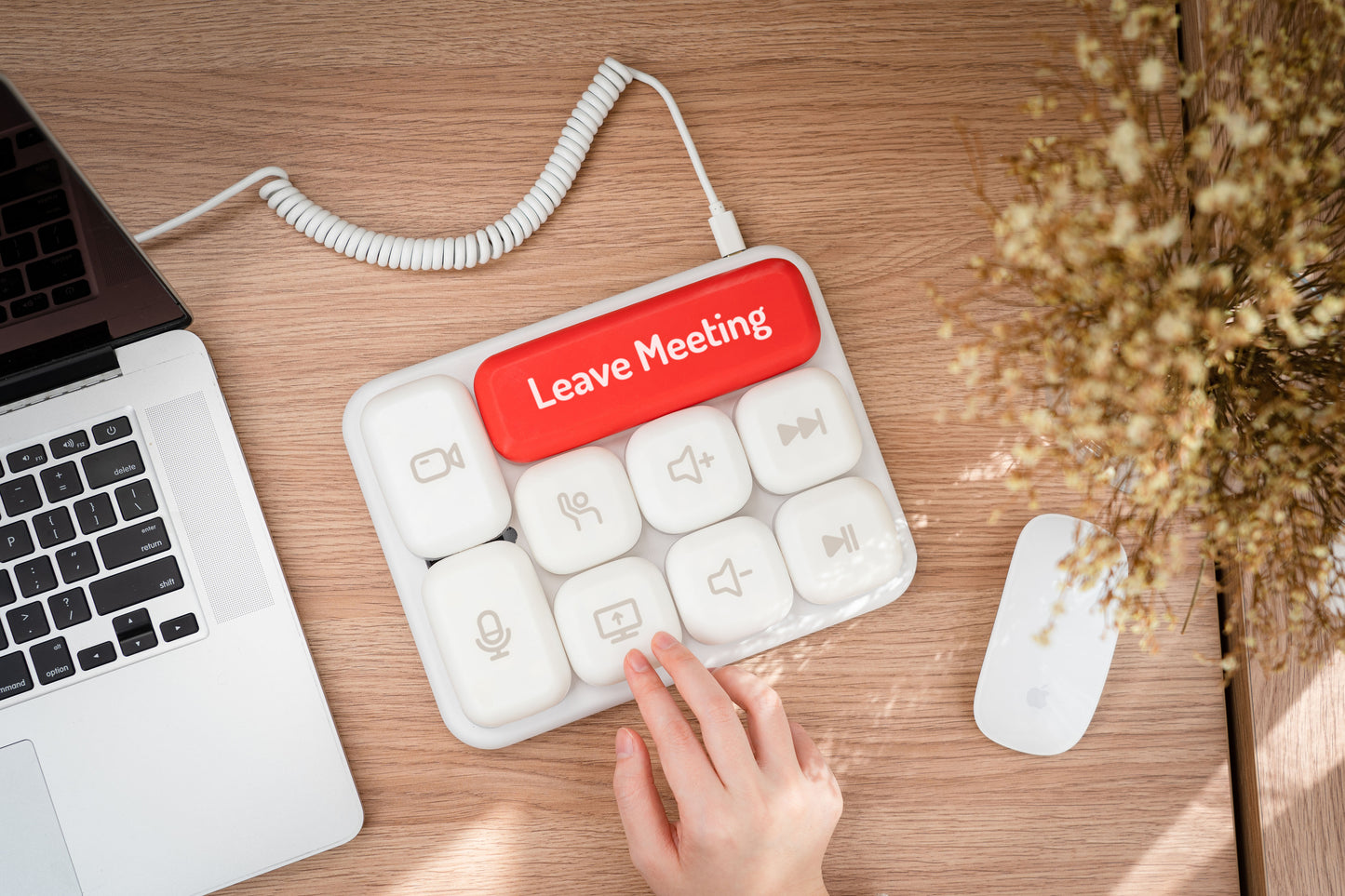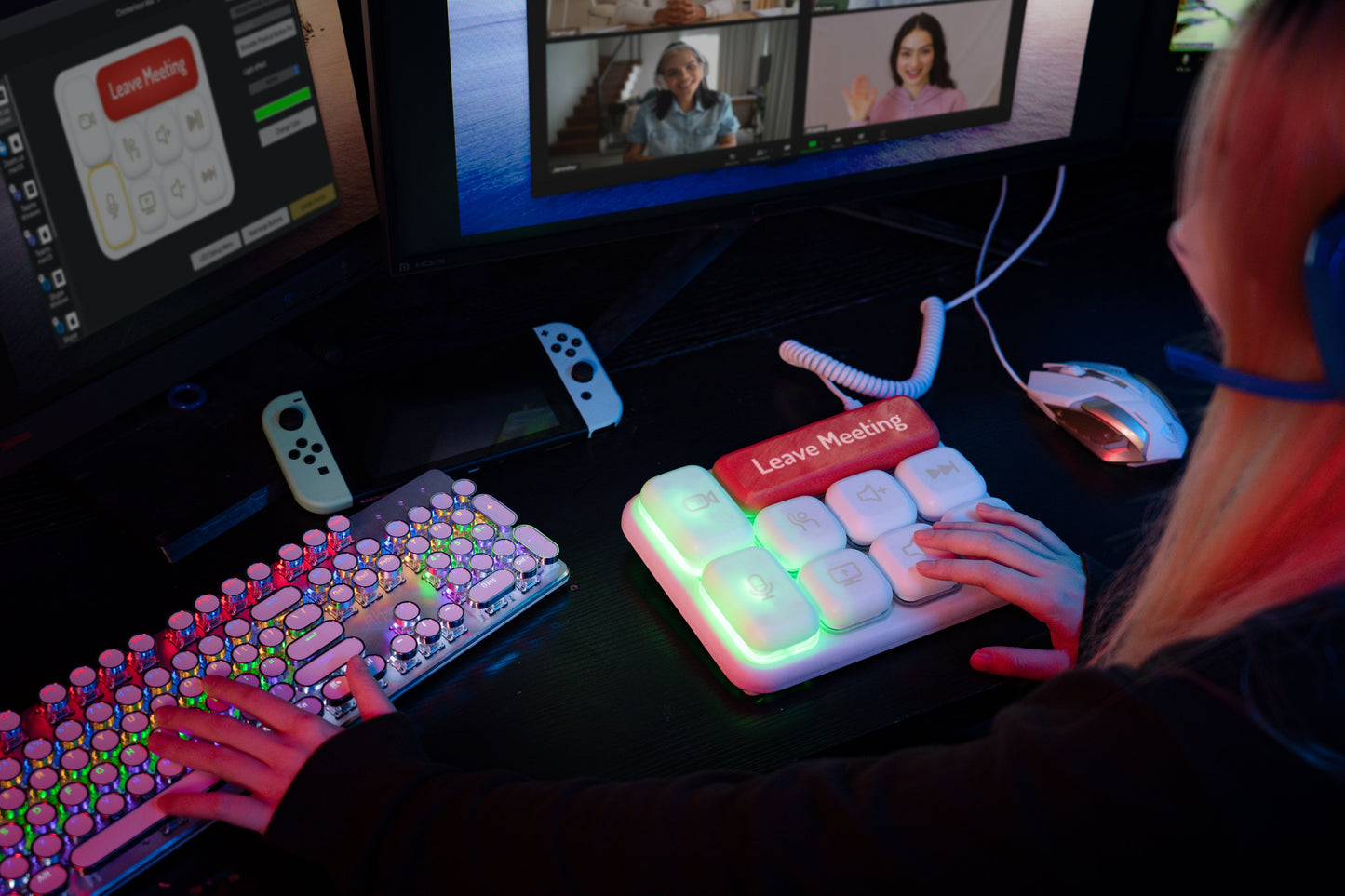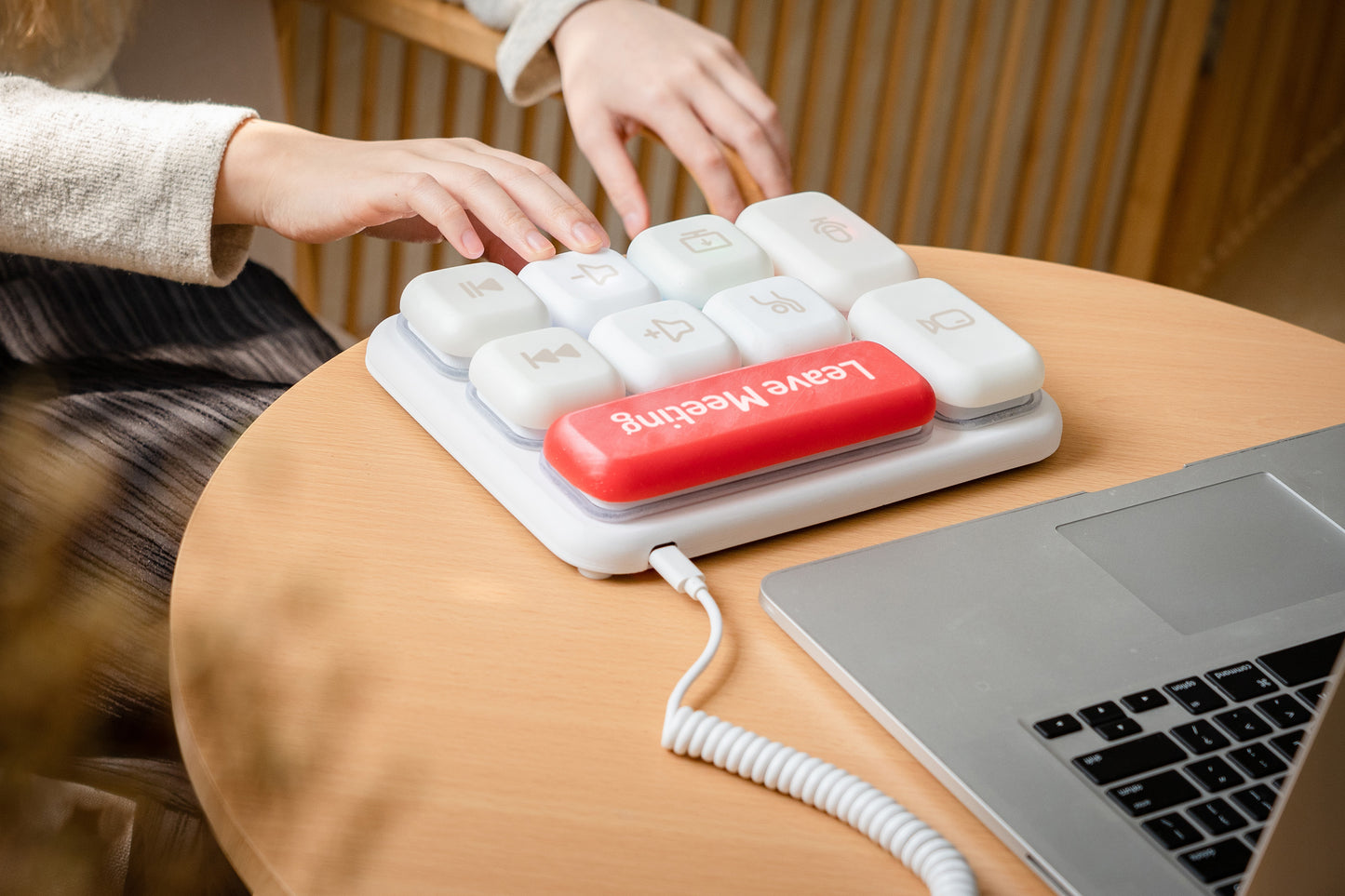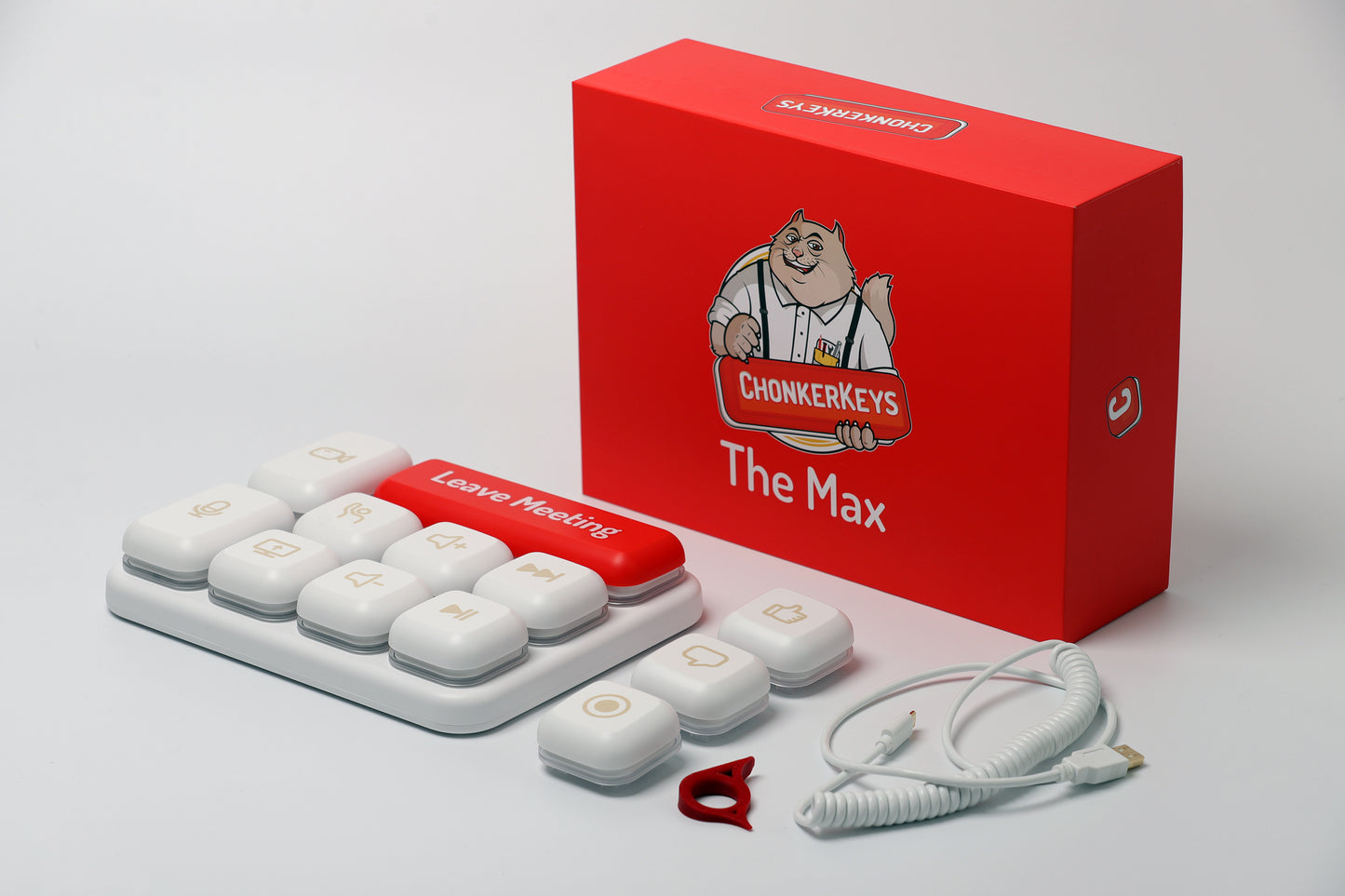 The Original Buttons:
The Max Buttons:
The easy and fun way to control your video calls
Even as the world opens back up, remote work, school and social connections are not going away. ChonkerKeys is here to help:
Real Keys, Real Easy to Use
QMK Compatible

QMK Compatible

For those of you who are into building your own mechanical keyboards, we run ATMEGA2U4. This means that the chip is QMK compatible. Use it as a macropad to do whatever you can think of!

 Assistive technology 

We want to see if this may be something that can help folks that have trouble using typical computing devices such as keyboards with small keys or touch screens that are too sensitive. Let us know the the FAQ what you think and what your needs are!

Industrial Design - Fun Shaped Buttons 

We spent a lot of time on the design of the keys to give each key an organic shape. The keypad isnothing but keys, and we put the LED lights under the keycaps, so they serve their purpose without overpowering.
One trick pony, ChonkerKeys is not. Beyond video meetings, ChonkerKeys is infinitely customizable - a revolutionary hardware platform, if we may say so:
Special patterns on the keyboard so you can move the keys on the keypad to different positions to suit your preferences, much like your favorite plastic bricks (patented)
With our software, you can use ChonkerKeys for more than video conferencing: configure the buttons to send shortcut keys (hotkeys) you choose, to automate things you do all the time, such as copy and paste, Excel functions, screen shots, switch to your favorite window, open a website, etc.
Keep hitting the wrong buttons? Switch them around to suit you
"Can you hear me now" is probably the most uttered sentence in video calls. No more! The LED lights on the corresponding keys will let you know:
Your mute status
Your camera status
Whether you are sharing your screen - no more checking your emails in front of everyone
Left: Microphone LED lights show whether you are muted (red) or if you have a hot mic (green);
right: Webcam LED lights show whether your camera is on (green) or off (red)
The Share Button turns green when you are sharing your screen. Makes you think twice before you check your emails in front of everyone
We aim to make ChonkerKeys useful for a wide variety of platforms, e.g. Zoom, Teams, Google Meet, Skype for online conferencing app
Easy configuration software
With our software, you can easily reconfigure your buttons and flash it to your ChonkerKeys.
Featured by 20+ presses and more!
.